For those of us who love fishing, there is always a craving to go away to the lake and throw the rod. Especially when we have time to kill. But for obvious reasons, we can not always go fishing when we feel like it. Instead, we can during such times devote ourselves to the fishing game on the mobile phone. Idag är de mer engagerande än någonsin.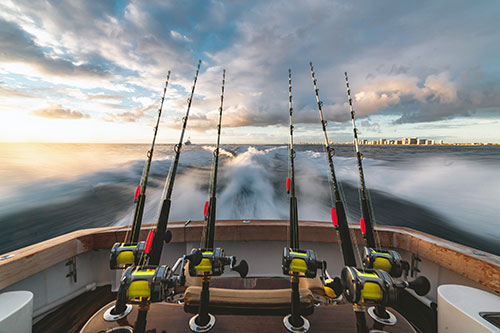 Let's Fish
I det här omfattande fiskespelet kan du som spelare göra väldigt mycket roligt inom sporten. För att ge några exempel kan du fånga hundratals olika sorters fiskar, besöka kända fiskeplatser runt om i världen och skräddarsy din egen utrustning. En extra rolig funktion är att du kan tävla mot andra spelare. With Let's Fish kan vi utan att överdriva säga att tiden går undan, och att din fiskehunger stillas. Åtminstone för en stund.
Reel 'Em In
Det här klassiska slotspelet i fiskets värld kastar dig ner under havets yta där din uppgift är att kombinera olika symboler. Dessa olika figurer är allt från snäckor till beten och, så klart, fish. Du kan spela Reel 'Em In med insatser på sajter du hittar via Casinoguide.se men det finns också möjlighet att spela utan pengar.
Fishing Clash
När du spelar det här festliga fiskespelet befinner du dig vid de mest tropiska sjöarna för att fånga vackra, men också stora fiskar. Kort och gott går spelet ut på att du ska fånga sjöns allra största fisk. Du har din egen loggbok där du kan registrera de fiskarna du fångar och deras olika storlekar. Fishing Clash må låta som ett actionpackat fiskespel, men det är högst avslappnande – fram tills när du får en riktig baddare på kroken! Då börjar adrenalinet pumpa.
Rapala Fishing
Bland de fiskespel vi listar idag är Rapala Fishing det mest actionpackade. Först styr du fiskaren som väljer var han ska kasta sitt bete, för att senare följa med betet ner under ytan. I det här läget styr du hur betet ska röra sig för att locka till sig uppmärksamhet från de stora fiskarna. När en fisk väl lägger märke till betet och biter tag i det, är det din uppgift att dra upp fisken utan att tappa den. Här krävs det skicklighet, finess och tajming. Sådant vi lär oss när vi själva är ute och kastar.
Ja, när vi känner att vi så gärna vill fiska men av olika anledningar inte kan, är det ingen dum idé att ge dessa mobilspel chansen. Underhållning utlovas!