For those of us who love fishing, there is always a craving to go away to the lake and throw the rod. Especially when we have time to kill. But for obvious reasons, we can not always go fishing when we feel like it. Instead, we can during such times devote ourselves to the fishing game on the mobile phone. Today, they are more engaging than ever.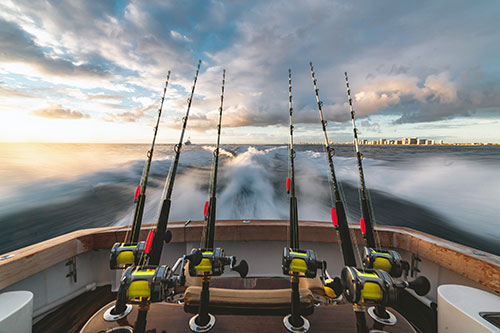 Let's Fish
In this extensive fishing game you as a player can make a lot of fun in the sport. To give some examples, you can catch hundreds of different kinds of fish, Visit famous fishing spots around the world and customize your own gear. An extra fun feature is that you can compete against other players. With Let's Fish we can say without exaggeration that time goes by, and that your fishing hunger is still. At least for a while.
Reel 'Em In
This classic slot game in the world of fishing throws you down below the ocean surface where your task is to combine different symbols. These various figures are everything from snails to bites and, of course, fish. You can play Reel 'Em In with bets on sites you find via Casinoguide.se but there is also the opportunity to play without money.
Fishing Clash
When you play this festive fishing game, you are on the most tropical lakes to catch beautiful, but also big fish. In short, the game is about catching the lake's biggest fish. You have your own log book where you can register the fish you catch and their different sizes. Fishing Clash may sound like an action packed fishing game, but it is most relaxing - until when you get a real bath on the hook! Then the adrenaline starts pumping.
Rapala Fishing
Among the fishing games we list today are Rapala Fishing the most action packed. First, you control the fisherman who chooses where to throw his bait, to later follow the bait down below the surface. In this mode you control how the bait moves to attract the attention of the big fish. Once a fish notices the bite and bites it, it's your job to pull up the fish without dropping it. This requires skill, finesse and timing. This is how we learn when we go out and throw ourselves.
Ja, when we feel that we so much like to fish but for various reasons can not, it's not a stupid idea to give these mobile games the chance. Entertainment is promised!