We all have our favorite places when going fishing, perhaps it is a place near her childhood home or at the cottage. Yet there is a desire to discover new places, both for fishing and nature. Are you perhaps a new place for next season? Read on!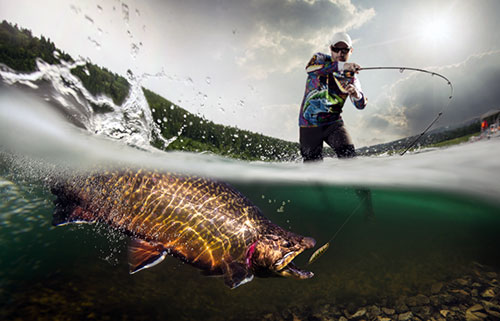 Mörrum
Artikeln hade såklart inte varit komplett utan att nämna Mörrum. För den som ännu inte hört om detta ställe så beskrivs det enklast som ett mecka för fiskare. Här kan både nybörjare och mer erfarna fiskare njuta av utmärkt fiske. Här har man även dragit upp världens största öring som vägde strax över 18 kilo! Det är inte heller ovanligt att någon drar upp laxar på över 25 kilo här. Är du ute efter en storfångst får du med andra ord inte missa Mörrum. För att hitta dit så kan du kolla här!
Käringberget
Käringberget är känt för att tillhöra de mer svårfiskade vattnen och attraherar därför mer proffsfiskare än amatörer. Här hittar du både strömt och lugnt vatten vilket gör fisketuren lite mer spännande. Har du otur i fisket så är det svårt att inte uppskatta naturen där. Det är ett bevis på hur fina vatten vi har här i Sverige, oavsett om det gäller fiskevatten eller Badvatten. För att hitta dit så kan du kolla här!
Malingsbo-Kloten
Är man ute efter att fiska gädda och abborre så är Malingsbo-Kloten definitivt värt ett besök. Det är ett stort område som förutom gädda och abborre även erbjuder möjligheter att fiska öring och inplanterad regnbåge. Dessutom finns det chans till flugfiske i utvalda områden. Malingsbo-kloten kan alltså summeras som ett utmärkt fiskeställe oavsett om du är mer erfaren eller ny till fiske! En perfekt destination för familjen eller ett kompisgäng då det finns möjligheter till flera olika typer av fiske. Du kan även hyra en båt till bra pris, 150 kr för en heldag. För att hitta hit så kan du kolla här!