We all have our favorite places when going fishing, perhaps it is a place near her childhood home or at the cottage. Yet there is a desire to discover new places, both for fishing and nature. Are you perhaps a new place for next season? Read on!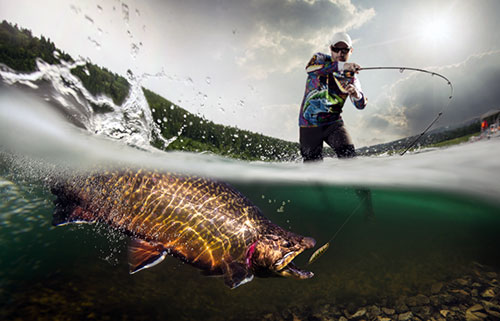 Mörrum
The article had obviously not been complete without mentioning Mörrum. For those who have not yet heard about this place as it is described simply as a mecca for fishermen. Here, both beginners and experienced anglers enjoy excellent fishing. It has also drawn up the world's largest trout that weighed just over 18 kilo! It is not uncommon for someone pulls up salmon weighing over 25 kg here. Are you looking for a great catch, you, in other words not miss Mörrum. To get there you can check this out!
Käringberget
Käringberget is known to be among the more difficult fishing waters and therefore attract more professionals than amateurs fishermen. Here you will find both flowing and still waters, making fishing trip a little more exciting. If you have bad luck in the fishing, it's hard not to appreciate nature there. It is a testament to how good the water we have here in Sweden, whether for fishing or Bathing water. To get there you can check this out!
Malingsbo-Kloten
If you are looking to fish for pike and perch as is Malingsbo-Kloten definitely worth a visit. There is a large area in addition to pike and perch also offers opportunities to fish for trout and stocked rainbow trout. Additionally, there is the chance to fly in selected areas. Malingsbo-globes can thus be summarized as an excellent fishing spot, whether you are more experienced or new to fishing! A perfect destination for family or a group of friends when there are opportunities for many different types of fishing. You can also rent a boat at good price, 150 for a whole day. To get here you can check this out!