In detta fish reportage, Team Poseidon i Söröya – 2011 in Fish Magazine takes Patrik and his father Olle us on a fishing trip to Northern Norway.
This year Norway Visiting went back to Soroya after last year detour to Havøysund. We were on the trip was Team Poseidon reinforced by our friend Werner, Creep fish team, Team Ugly cats and Anders Nilsson and his crews from FK moose in Borås. We would stay up for two weeks rest one week.
During our bus ride out to Soroya we had been told by Team ugly cats who had driven up and was at the camp already that it blew around 15 m / s in Soroya to go out and fish were not thinking about. So the question which came first the info meeting is how the weather has come. And to everyone's relief so looked good judgment coming days. And already on Thursday morning, it was planned long trip then the wind would subside during the evening and night. We got to bed late when fishing stuff and other things would be arranged so there were only about 3 hours of sleep.
So on Thursday morning we tune out Arronet boats cruel charged if a little tired. The fishery would be done on one of the new halibut places south of the island that has been found during 2009. Efter as 1 hour we were on the ground and begin fishing, it was not long before the first halibut reported by VHF:in. Smyge fishing team gets a good start and get relatively fast 3 hälleflundror on 9, 16 and 20 kg. They fish successfully with the giant jighead during this day.
Team elk fish cruel this day and has 11 flounders up to 17,8 kg in the boat and even cod 21,5 kg. It is Anders who stands for both peak fishermen. They will be the best The crew on this day.
It was a very tough start for us and the mood was not on top! but after a few hours we find a hot area. Olle get on a halibut that seem to be of better size unfortunately, so drop it after a while. Werner gets a smaller halibut but most important of all zero is cracked. We have some contacts in this area but almost as soon as it begins to inflate so the wizard announces that we will pull us back home. Team ugly cats with Roggan spearheaded fish with a guide boat during their week. Along for the ride are also Roggans daughter Tessan which besides reading on Forshaga. She gets her first flounder on 14 kg and is completely saved directly.
On Friday we went on longer trips for halibut again this time north to a fjord and even a new location. It was blah here as the guide Johan Mikkelsen earlier in the season, got his dream flounder on 193 cm and the estimated weight 95 kg så klart catch and release.
So it would be great fun to test fishery at this location. The fishery will be very tough for all boats lying in the fjord on this day in total it will come up two halibuts all the boats. Team moose choose a fjord closer Soroya and again has a good fishing 8 flounders up to 35 kg.
After two long tours for the past two days so we choose to take it easy over the weekend. That's the benefit of being up there for two weeks one can relax a little too. So we angles plaice in Murmansk Gulf something we spend some time on every trip since it is a fishery that we think is very funny, especially in Norway where one really has the ability to get a really large plaice. But inside the bay keeps them on removing the wreck so there is a lot of sawing, wells etc.. This obviously affects fishing for plaice negative where. But we are still in the crowd about 10 pc up to 1,5 kg and a pair Sculpins of about 2 hours of fishing. Unfortunately, no real peak judgment fishermen. Olle get a halibut 4-5 kg it becomes a quiet fight on pillemetespöet.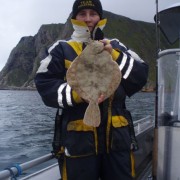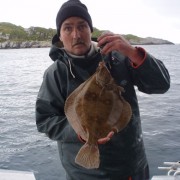 On Sunday night we fish for flounder again at the same place where teams moose or, now baptized into "flounder kings" had good fishing on Friday and got 8 flundror. But the fishing was very slow back to us and we begin to lose faith in ourselves what are we doing wrong, etc.. We did everything right according to the rule but sometimes it works not only. Halibut Fishing can be very boring and frustrating but once it stabs it's all those boring hours worth. After a number of hours abrasive, I get a finally a fish that weighed to 16,4 kg. Unfortunately offered it on a very boring fight dragged about 10 meters once then followed it up.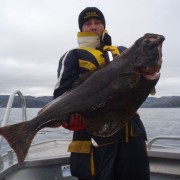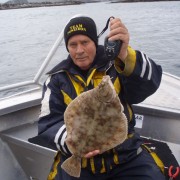 The following night so we decide to try some places near the island but it gives no fun. Cod we get in amounts up to 10 kg as we run a while with light equipment and has a fun fishing. Another boat shouts up that they have a good big cod fishery also nice saithe they had received. So we guide and boat driving there but just before we arrive so diminishes the power and fisheries die out very quickly. Team ugly cats with Roggan in the lead, however, choose to keep it there anyway and fish. He wanted to have a new personal best of cod. And when we come in from our fishing we will meet on the bridge of a super happy Roggan. It had become 3 new personal best for him at the following fish – cod 22 kg, Haddock 4 kg and a spotted catfish on fine 17,1 kg, the next largest is taken on any of the Nordic Sea Anglings camper. And flounder kings set a new camp record on gray catfish on 12 kg it is Peter who gets a really nice catfish on 12 kg out on Runningen. Previous record holder was our friend Johan Persson.
Now it was already Tuesday night and a week flies up in Norway and the rest of the camp was packing his things in the crowd to go home tomorrow. However, as would two guys who lived in Gjestehuset also stay two weeks. So we ask if they were eager to go on a long trip then you have to be two boats for it and it was them. So we're talking synthesize us a bit about fishing and it would even this time directed halibut on a site south of the island and this time we got started fishing good. Patrik gets pretty quickly on a flounder after about 1 minute, says Werner sat the. Olle has put his rod to help us! then look Patrik it's about to go over. Triple twirling of halibuts awesome and spirits were high. Olle drops her after a short time, Patrick and Werner are of smaller size around 8 kg. The other boat may not be running their fishing where they are as we call them up and they come over to us and get started their fishing. We regret to interrupt fishing at it's best due to increased wind safety must go first even how good the fishing is. But it's not wrong to end up on top in either. In our boat so we landed 8 pc and the other boat 6 st. Unfortunately, the judgment of smaller size and no pass 10 kg. But a lot of contacts and some dropped. Although there was not any big halibut we got, it's a fun fish to trill. One must also be able to enjoy other things more than big fish so pleased with the night so we went to bed early in the morning.
Second week starts with good weather it is just to enjoy it is on Soroya, calm sea and good fishing around the corner in among life is wonderful. After a little fishing the next day in some places near the camp that does not directly over the mass cod up to just under 10 kg as planned long trip to the big cold breaker on Friday. And there is no turn one wants to miss the chance of large cod, halibut and saithe are very well out there. So we're a bunch of boats that stand out to the famous shallows which made numerous anglers happy. When we arrived so spreads the boats out we had decided that we would target fisheries for halibut. Even if fishing for flounder so it probably cod between 10 – 20 kg as by-catch. We start fishing in a gully that looks really hot out and almost immediately so may Werner a good bite and the fish are fighting very well and after a while, a cod of over 15 kg up to the surface. Werner chooses to put his flundraspö in one of spöhållarna on the boat, he takes out his light equipment and the equipment must certainly true colors. He gets several cods between 10 – 17 kg a very fun fishing when cod in the size and light equipment. We spins on after flounder and get a number of cods over 10 kg. But then gives the results for Olle he gets a nice stab where the flounder are fighting very well and offers a good fight so when we see it, we become a little surprised by the size. The table shows the 12 kg a fine edible fish so it may come home with. We have a very good fishing for large cod and a lot of cod 10 kg comes up on the boats. But halibuts was not in the mood this day out there. One of båtarna get a Marulk on 12 kg a cool catch. So with a landed flounder and a number of cods up to 17 kg so we leave the big cold switch and steering boats head for home after a number of hours.
Next trip planning them to go to Råsa for large cod and then finish with halibut fishing. Existing Råsa it is without doubt Norway's best place for large cod. Then, during my last trip to Soroya 2009 got a really nice summer cod 31,3 kg and Olle one on 27 kg so we were pleased with our personal best of cod. But of course we would take the opportunity to try to get a big cod Werner. And is it any place you have chance to it so it is out on Råsa. So we hung out and hoped to large cod was in place something we would not regret at least not Werner. When we come out so there is no småsej in place while it is where often large cod which also. Something we really got to experience 2009 when we got to experience a magical night out on the Råsa with several cods over 15 kg. But the boats spread out and there are some over 10 kg but no game fishing right. Olle gets a long model less not common although there is some every year. Guide boat call up late that they found an area where there is a little cod. So we drive there and I stay a bit in from them when I see fish on the sonar Werner let down his jig and direct stabs a better cod struggling really good. Johan Mikkelsen shouts that stuff looks really good. When I see that Werner's line goes a good distance out from the boat so I say to him that this is really big. But when it comes to the surface some distance in from the boat, we see that it is huge and it probably will rupture 30 kg limit. I'll grab the hook and we pull it overboard. We measure it 146 cm and we hang up the road in the boat but my super samson 25 kg wave going in the ground. For that matter, so was the ceiling of the district ethylene too low even when the cod took to the floor. But it was actually a really nice problem. Then my summer cod weighing 31,3 kg and had a length of 148 cm, so I was sure that it would weigh over 30 kg. I wanted to break the fishery and drive in and weigh it directly as it is difficult to get an accurate weight on the ocean but gets stopped by Olle and Werner. So it remains there for approximately 10 hours before it is weighed in the harbor. The way in port 28,35 kg an incredible summer cod and new personal Werner.
Satisfied with fishing on Råsa when it gave us what we hoped we would now fish for halibut in one of the fjords north of the island where the guide Johan Mikkelsen got his dream flounder earlier in the season. What we did not know was that this fjord would today releasing it yet halibut over 90 kg. We decide to go fishing at the edge of the fjord and it does not happen so much after an hour or so may Olle on a fish that he offers a really good fight the fights enormously. Several times it is up there but goes down again with the same strength solid Olle put pretty good pressure on the. The last time stand so says Olle not again and we others laugh. We measure it 114 cm weight 17,4 kg according to the table. Olle has received many flounders when he had been up but have had bad luck with the weight. So this was a new personal best for him.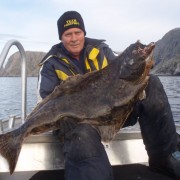 One of the boats call up about the same time that they have received of something big. They've been doing for about 45 min with it and have not seen it yet. The boat guide assists them when it begins to approach the surface and it does after about 3 hours. It is measured til 190 cm in water – 90 kg this fjord is really hot. Two flounders over 90 kg come up here during the season. It may be added that this was their first offshore fishing trip. Will be interesting to see what comes up here next season.
Now it's already Monday evening and it was the last pass for us. We spend the last day on land we take it slow and packs and fixes everything before hemresan.Tidigt in the morning, the bus and pick us up to take us to Lakselv airport where the plane waiting to take us to Sweden. We want to thank everyone who was on the trip for a very enjoyable trip, Team Poseidon i Söröya – 2011.
Text & Photos: Team Poseidon i Söröya – 2011, Team Poseidon »