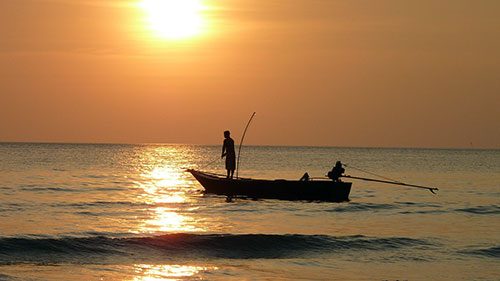 Man has been fishing for as long as she has been hungry. In other words, one can say that fishing is one of the world's oldest pastimes and sports. Although it is far from all that active fish, has no interest waned. Nowadays there are plenty of modern games where you have to rake in the largest firren. In this article we will look more closely at some of these.
Fishing Planet
Fishing plane must surely count as a modern classic. It is simply one of the best pure fish games ever. Fishing Planet is also extremely realistic with its amazing graphics and accurate insight into the fishing world. In the game you will find example of 110 pieces of fish species, 17 delicious courses, and can play with three different types of fishing methods.
What also distinguishes the game is how natural water and environment interact. You can really see how the wind affects one's surroundings. Simply a perfect game for those who want a so realistic fishing experience possible.
Red Dead Redemption 2
One of history's most coveted game Red Dead Redemption was released in the fall. And talk about it delivered! In the game you play as Arthur Morgan, a middle-aged cowboy on the run from the law. You can do everything from discovering the Wild West fantastic nature to hunt bandits and fish.
In the game there is namely a surprisingly wide variety of fish, but be sure to use the right bait. If you are going to capture those old legendary giant fish, you can not just baiting with an old slice of bread that you have picked up in an abandoned church. No, look up something really fruitYum and ride then off to one of the game all the lakes and try your luck. It may not be as realistic as Fishing Planet, but the fun is!
The Angler Slot
In this slot game comes the really rake in the largest firren. You should namely embark on adventures with a fishing expedition on the high seas. The Angler Slot can be described as a modern slot machine where instead of bells, sevens and diamonds, shall collect different kinds of fish, turtles and sharks. If you manage to get more of the same type at the same time in the games reels you win. The best, however, is if they manage to pull up the angry octopus or the stubborn pearl oyster, These are namely wild cards either provide a new turns, which can act as fish symbol whatsoever. På www.casinofeber.se you will find various online gaming sites that offer The Angler Slot and other similar slot games.
Fishing Resort
2011 Nintendo released an overlooked little gem to its console Wii, namely Fishing Resort, which was packed with fun mini-games. It could be up to four players to test and see who was the best at throwing out and attract different types of exotic fish. Since the game was made to their playful console which ruled the game by moving their hands and arms, could the whole family gathered in the living room and challenge each other in different fishing disciplines - super fun!