Here are tips that are more or less related to fishing. Many of the tips are sometimes obvious things to many but sometimes there are things you have not thought of, so on this page you can find tips that may be helpful in your fishing.
Tips that can help the fishery
Fiskemagasinet.se is what we make of it, so it's up to us to make an interesting and readable fishing magazine, send us your tips for fish tank tips: info@fiskemagasinet.se
Shit Fishing on you all!!
---
Arild Moe innovation Slinger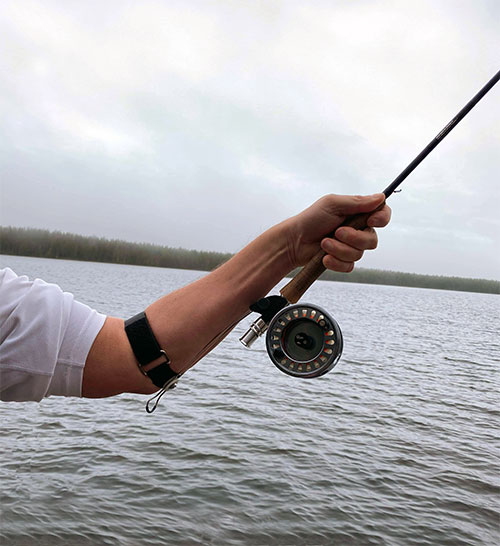 Arild Moe has developed an aid for the fly fisherman. His innovation is called Slinger and is great at relieving both the wrist and forearm, which makes it easier to throw.
If you have any damage that prevents you from fly fishing, Slinger can be the solution for you.
Contact:
slingersweden@gmail.com
www.facebook.com/slingersweden
instagram @ slingersweden
---
The right glasses for fishing
Out on the sea or on the shore sun reflected strongly in the water. It is easier to get a tan or burn when you are near the water. The risks to the eyes is the same as the skin, eyes can become "burned" by the bright sunshine. So having sunglasses while fishing is a must.
It is not enough just to buy that pair of sunglasses anywhere, you need good quality to protect your eyes.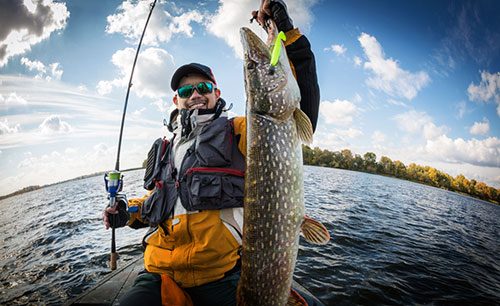 Polarized sunglasses
The best buy is polarized glasses that protect well against UV light. The glasses are coated with molecules that protect your eyes from the light hitting the glass horizontally. The polarization also improves color contrast, helping you to see better. Ordinary sunglasses tone down the colors and details are a little harder to see. This type of sunglasses are perfect on the water and in the winter when the sun is reflected in the snow.
These can be purchased online through Mister Spex, the majority of the major brands offer polarized sunglasses.
Glass Color Matters
Sunglasses come in more colors than just dark brown or black. Different lens colors are not aesthetically, they actually have different functions and are best suited for various conditions. For simplicity, we can sort them out like this:
Gray / Green – fits well when you're on the open water and fish only in daylight. Fits well on the sea.
gula – contrasts and fit when you are fishing from shore and the weather is a bit overcast, fit less well in bright sunshine. Fits well on the lake.
Copper – color fits in most cases, Also at sunset. Good color reproduction throughout the day.
red – better in low light such as a sunset or early morning. The highest contrast of all colors. You want less color contrast, you can instead choose pink lenses.
Workmanship
Even if you only have time to go fishing a few days a year, it is important that the sunglasses are of high quality, not only to get good contrast and color reproduction. You should buy real sports glasses, not ordinary polarized sunglasses. Sports glasses are constructed of harder material and do not have as many weak parts. There is always a risk of eye injury when fishing, hooks flying sideways or to slip with the knife, or other objects that can hurt you.
---
Tips on tube fly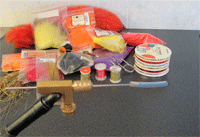 A good tip for a cheap and good body into a tube fly is to buy transparent air hose ( 3 mm) which is often sold in meters, then buys Johnson's cotton buds (tops).
Cut away the cotton stop cars and share the piece of plastic in the middle, heat (light, lighter) Then both ends so that you get an edge, wood then on the air hose.
Cut the air tube a few mm after Johnson's stick and you have finished hook keeper to fly. Johnson's cotton buds are preferred partly because they are stiffer and easier to get a nice edge when you heat ends. Now it is just and put the body in the vise and tie your favorite fly.
---
Bombard, a must have in your tackle box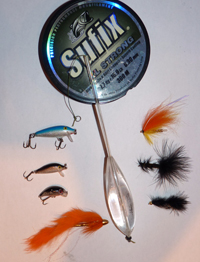 Bombarda can be described as an aerodynamic kastdobb. With it, you can achieve throws that before were impossible, Getting a perfect bait presentation, and fish at the depth you want.
Bombardan fished sliding on the rope with a rubber bullet as shock absorbers between the body and spawning or call. Tip! Install bombardan finished with a ring or playing at each end of a rope that is about 30 cm lång så kan du snabbt byta mellan olika bombarda eller andra beten och inte behöver hålla på och knyta utan du kan snabbt göra ditt byte tack vare beteslåset du har på huvudlinan. You only need a rubber ball on the bottom that protects the joint and acts as a shock absorber.
On the bottom ring or playing among you tie then the tippet where the length can vary between 50 cm and up to 3 m or simply as far as rod allows. The diameter of the tippet you choose for fish and bait cool.
There are various bombarda with different properties, these are:
Liquid, Tip! By putting a small lead shot on the leader can fish by as many deep as tafsens length allows. Fishing happy with small jerk at different speeds.
Floating / Intermediate, Have a density close to water and are thus closest to completely weightless in the water. Ideal for fishing in shallow areas or high water when you do not want to bombardan will cause ripples in the surface. Is entirely horizontally in the water as the other bombarda.
Declining, Tip! Går även utmärkt att använda i älvar med svår botten där vanliga sänken lätt fastnar. By holding back bombardan in the stream, you can get it to "calm" over the ground while the length of the tippet control on pasture must float freely, or lie on the ground. Optionally, you can fine tune with small lead shot on the leader.
The possibilities are almost endless when it comes to bait selection, you can use: streamers, zonkers, tubflugor, small wobblers, jiggar, Spin-n-Glo, laxflugor, muddlers, different flies and worm.
---
Filleting a salmon or trout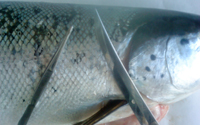 There are probably several ways to fillet a salmon or trout but this can be done.
You need a knife + tweezers or pliers:
Do this:
Clean the fish as usual. Finally, cut the blade to the inside of gällocken right into the spine.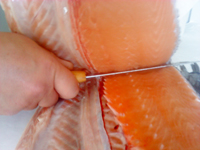 Angle the blade so that the blade rests against the spine and cut loose tenderloin.
Turn the fish over and repeat on the other side.
Cut the front part of the tenderloin directly behind sidofenan.
Cut away the second fins.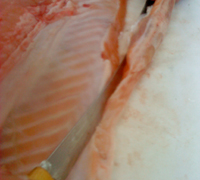 Let the fish get themselves a cosmetic surgery. Cut off abdominal fat / meat next to the tips of the side legs.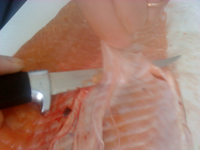 Cut away side legs.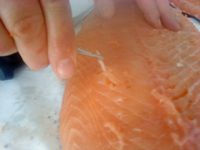 Remove the legs from the side line with tweezers or pliers.
Have you done everything right, you should have something like this in front of you.
If not, then you should get out and get more exercise items.
---
Checklist Fjällfiske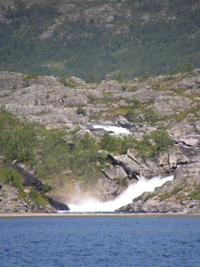 Flyfisher
1. Flugspö classic 4/5 to 5/6, class 5/6 to those who are not so used.
(Do not spare the rod).
2. Flugrulle, backing, floating line in the class to the fly rod.
3. Tafsmaterial, tafsmaterialet is a commodity that should nyinvesteras each year. Sizes 0,25 – 0,22 – 0,20 – 0,18 – 0,16 – 0,14 (main 0,22 – 0,18 – 0,16)
4. Wading boots or waders.
(Consider the weight and take lightweight waders if you can choose, integrated Neopren)
5. Sunglasses
(It is important to protect your eyes and see the fish with polarized lenses that filter out solreflexerna)
6. Landing (Good to have at C&R, gärna knutlös)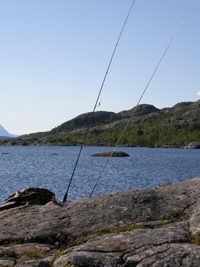 Spinnfiskare
1. Spinn / Spinning rod for bait weights up to 20gr, Please UL rod for the smaller works in size 4-10 gr. (Extraspö or peak at spöbrott)
2. Extra tow, recommended thicknesses are 0,20 and 0,25 depending on the type of fishing to be conducted (0,25 – 0,30 for boat fishing with Långedrag).
3. Snap locks and extra swivels. (Important because much of the fishing takes place in streams with twisted rope results)
4. Good roll, it is far to implement trade.
5. Drag. Do not bring large SPOON without investing in a little less pull type floating Rapala wobbler in small sizes, love gray and yellowish red. Toby 5 – 12 gr, small spinners in different colors and char trailers or Långedrag if there is access to a boat.
Tip! Various flavors of vitamin C effervescent tablets you have perfect grog timber that does not weigh that much if you'll be walking a bit.
---
Gunnar Westrins Harrskala (Flowing Water)
| 0,5 kg = 34-38 cm | 1,3 kg = 52-53 cm |
| --- | --- |
| 0,6 kg = 38-42 cm | 1,4 kg = 53-54 cm |
| 0,7 kg = 42-44 cm | 1,5 kg = 54-55 cm |
| 0,8 kg = 44-46 cm | 1,6 kg = 55-56 cm |
| 0,9 kg = 46-48 cm | 1,7 kg = 56-57 cm |
| 1,0 kg = 48-50 cm | 1,8 kg = 57-58 cm |
| 1,1 kg = 50-51 cm | 1,9 kg = 58-59 cm |
| 1,2 kg = 51-52 cm | 2,0 kg = 59-60 cm |
---
Ignition Block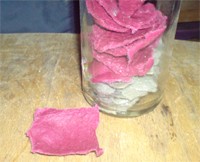 Here a tip for cheap and good firelighters.
Take an egg carton and tear it into pieces.
Then take a tight jar and put the pieces away.
Then fill in with a little tändvätska.Låt it soak for a few days then you have fine firelighters.
---
Fryspaket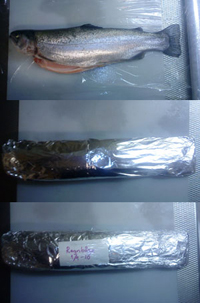 This tip is perhaps obvious to many, but some may have problems with and get the fish, and especially when oily fish to keep well in the freezer. Simply insert the fish in a plastic bag and then think that it will taste good after a few months is something that you can only wish for. Although a hefty freezer bag closes out relatively much air so keep it out all the air. As everyone knows, the air contains oxygen and it is the oxygen that the fish become rancid.
By making use of the multi-layer principle, you can preserve the fish for several months longer than what you have succeeded when you used a freezer bag.
Flerlagerprincipen you see in pictures erna, First wrap the fish in plain wide plastic wrap then wrap the foil on and then end with the narrower plastic foil as you tighten slightly. Before you wrap the thinner the foil, you can also write a note what kind of fish and the date you received it, you take up the fish in the right order and that you are sure that the patch remains.
Equipment: Regular wide plastic film, aluminum foil and thin plastic foil with a handle. The latter one can purchase at any professional shop providing packaging.
---
Powerbaitkrok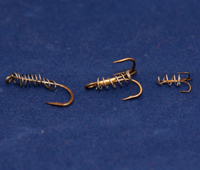 How many times have you not thrown out a bottom fishing, only to almost immediately begin to think and in case if the dough is left.
Here a tip on hooks that are good to PowerBait.
Remove the spring from an old ballpoint pen and cut it into the desired size to match the hook size to use. Then turn both ends so they stay in place.
The advantage of them home-made hooks against those who are on the market is that you can determine the size of the hook and the spring from a ballpoint pen is wider in circumference allowing powerbaiten is better settled than it does on them hooks you can buy on the market.
---
Fast on the fishing trip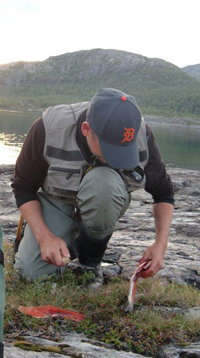 Ingredients:
– A couple of fillets of trout
– 0.5 dl Salt
– 0.5 dl Sugar
– Lemon Pepper
– Dill
Cooking:
Start by filleting the trout. Skip, sweeten properly. Add some lemon pepper and dill to taste.
Then add the fillets to each other and put them in a plastic bag.
Allow bag to stand in a cool place for about 2 hours. Slice then up the fillets and place on hard bread, Eat and enjoy.
Tip!
Mix completely equal parts salt and sugar in a plastic bag before father on fishing trip and you're done, then you just sprinkle on lemon pepper and dill before you add up the fillets.
If you do not have to put the bag in a cool, place it in the water but make sure it is complete and you anchor it by adding a stone to the bag just in case there is a current so it does not float away.
---
Rod holders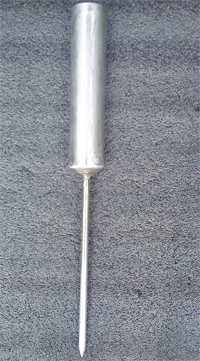 A rod holder has many different distributors with when to fish and, The image is made of stainless.
The main advantage of a rod holder is, eliminating his rod on the ground then there is always the risk that someone could crush it.
Sure you can set it up against a bush or tree, but then there's always the risk that it may blow over and break and then the fishing days destroyed.
When fishing in some places it may be quite a few moves on the beach and then an accident can easily be quick if you do not have a rod holder with the.
Another advantage is if you like and meta-meta or bottom so you always have with them a spöställ that you can set your rod in and without being worried that one should mistake his rod just in case you have set the drag too tight.
That said, it is spöhållaren image made of stainless though one can make it in different ways.
One way is to take the example stem from the vacuum cleaner and if it is a hard material can be cut into it so you get a sharp end that is easy to push more in the ground.
If it is metal, you can pinch one end when you've cut it to the size that you want it in.
---
Ice water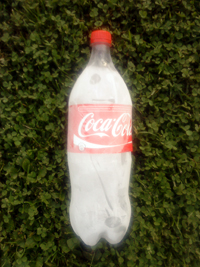 How many times have you not consuming water that is lukewarm almost bordering on warm while and fish on a hot day and have really longed for really cold water to quench your thirst.
A good tip is to always have a couple of plastic bottles in the freezer to so you always have ice water that stays cold long while and fishes, if you remember to bring PET bottles.
Then we have also good ice packs to keep food chilled and fresh even during really hot days.
A further advantage of and enjoy these PET bottles are the bottles can also serve as ice packs to the fishes if you should keep them.
---
aLOKSAK water tight bag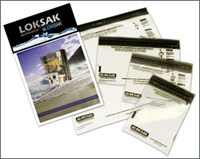 aLOKSAK waterproof bags, down to 60 m, perfect for keeping your phone or camera on a water safely. The bags are closable and is made of transparent plastic. Comes in a pack of four different sizes.
Another good use is to store the matches in a bag to make sure that you have dry matches if that will make fire. Of course so wet you rarely up if an accident occurs well it can be a costly.
---
Tape the rod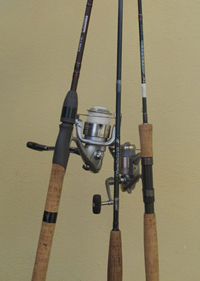 If you have considered releasing the fish back so it is much kinder to measure than to weigh the, you still get a good idea of ​​the size without hurting the fish. Then it can sometimes be awkward to start searching for a tape measure or a wave in his pockets when a fish flopping, wave that sweeps towards or water that flows while the rod forearm.
Now if you do not have an exact indication of the measure as the solution of one or more marks on the rod to hold the fish against. Pictured are a couple of laps of transparent household tape on fly rod, electrical tape on the cork on haspelspöet and masking tape on the UL rod.
An extreme advantage and have their rods taped is whether competition fish so you can remain in the water and see if the fish are up to scratch without the need to go ashore.
Tapes that are good to use, depends on the rod as the tape ends up being transparent household tape, electrical tape and masking tape. All these tapes are lightweight and remove if needed and the tape will not hurt your rod if you taped above.
---