In detta fish reportage, "fish best when you are relaxed without goals" Mikko Seppänen takes us on a perch.
There has been no fish in my life, or my "fish career". You know things like where the goal to set up as you someday want to achieve, as a tiokilos pike, first pike of 100 cm, perch of two pounds or whatever it may be, they set up as a goal or a dream in fisheries. And there may be many things!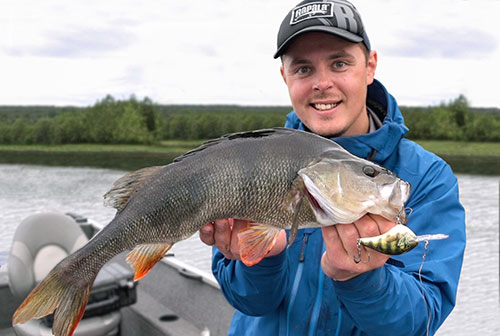 I have had many goals in fisheries in my life, and through hard work and testing and planning, I have managed to achieve most of them with time. Somewhere along the road disappeared like that think of me, and the number, size, etc. were no longer important, but it was "saturated". Instead, you had to completely different goals to win such a fishing competition, manages to take finer pictures of their catches, get better at writing, tell and give tips.
But then I stumbled not more serious perch and even though I was really psyched on that perch so it was mostly about learning the nature better. Learning how perch works, which tack, techniques, methods, etc. one should master in order to be effective. I caught more and bigger bass than ever but had no goals, I just wanted to go fishing.
One day I received a very nice perch 48,5 cm there somewhere for the first time struck me the idea of ​​the magic 50 cm, or a so-called super size-borer. Thought it would be cool to get some time in life.. But I thought no more of it, but it will, it will, but it's not something I think about.
Time passed and suddenly got that figure 50 cm to mind again.. I have to get one of those, only to have it done! And now it was a long time since I had such a goal with fishing so I nailed myself that now I'm really trying to get my first really long perch.
And it would not be caught anywhere. A parameter of my goals that I myself would be satisfied was that the fish should be caught in the river which is my home waters. A water I fished so much without ever having seen such a long perch. I realized that this would be very difficult and thought that it might be several years before I succeed.
So since then I, When I fished for bass, directed my fishing for the bigger of the river and tried to understand how and where I have the best chances.
Years went by and I got the fish up to 48 cm. Thought that now I'm as close as soon as it. but not. It was not easy and I began to understand that there are numerous 48 cm perch on a 50 cm. Such might be many years older than her "less" sibling.
After a good start to the pike season this year so I decided to put a lot more time on the perch than I usually do and take it easier with pike. After a slow start this year, I began to find better fish and after a few weeks, I received a very long perch in the net and thought that now might! This must be very close! It was 49 cm. And how happy I was, for the fish and how much, beautiful and unusual it is, it stung it and the thoughts were just on how many years will it take before I get the next chance.
3-4 Days later, I am out again. It is slow, very tough, this day. The days before I catch several nice fish on 45-48 cm but today nothing works. I do not give up and after trying several different places, I decide that the forehead bone an area I think extra attention. But it cuts very bad, few drills on a pair pound is little comfort.
I'm taking a break and watching my bait boxes.. Fingers around among some different models and colors and think if there's anybody Code, something bait, a way, I can fish in order to get up anyway an ok beetle on this day.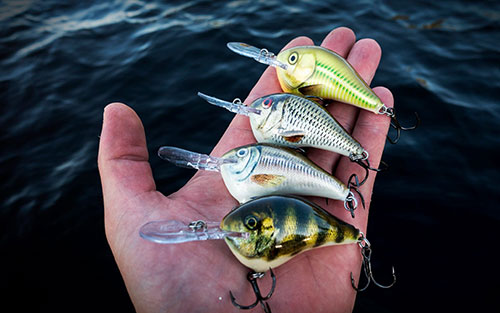 I catch sight of a Rapala DT10 in my favorite PEL (Live Perch). A bait that I sometimes done well, and that I had not tried this day. Large beetle I want, Of course I should run a large pasture where, I think. And perch eat perch so the color should be perfect. And the big fish are old and lazy so I have to fish slowly, imitate a simple exchange.
I tie on DT10an and make a throw over 4-5 m djupt vatten. I know that there is someone bigger stone and that they like to be near them. The depth of the 3,5-5 m. The bait frolicking in the water and I take some very rapid vevtag to get it down to its maximum depth of about 3 m. When I appreciate that I'm on the depth I pause, gives a slight jerk / jerk the rod and pauses again. A very slow method but a method I like to use for this bait. I revving it to very slow drinker crank 2-3 m and then slowly drifter again. After a few meters hit the bait in one of the larger stones, I crank bait gently bouncing off the stone to not get caught. And when it is free again twitches I even stop. Something takes it very carefully.
In the counter-thrust, I feel the weight, and it's a bigger fish. But it is behaving strangely. The fighting is not just something, but swimming a little sideways on the way to the boat. Where it stays and sways a bit in the spot before I can begin to lift it to the surface. When I catch sight of the old fish we see the very long out and I get the pulse ... Is it the?
Perch slips nicely into the net and I see a very old, colorless and narrow fish. I understand why it can not fight significantly now ... When the measurement board and the camera is rigged, and I'll raise her so I feel age, her muscles have begun to atrophy, this effect, nature and the ravages of time have all earth's creatures to end. On the measure of the board, I see immediately that it is enough to 50 cm and a little bit more.
It took me 5-6 years to find this great älvborre. The feeling is indescribable and I was very emotional out there.. Respect for the old man made me grateful and humble. I felt such a relief and awe at the same time as it smoldered for joy in me as a cheer-roaring slipped out of me!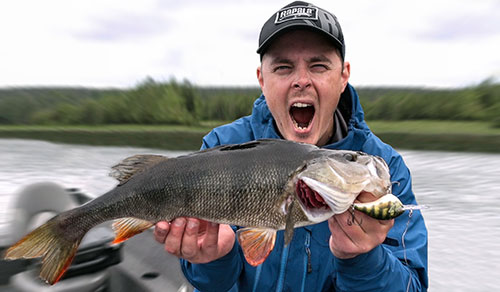 After she swam away from his visit, I sat there empty and I felt so happy. How hard it was but it was worth every minute!
Setting ambitious goals is awesome. You never know how it will go. Sometimes you're lucky and achieve the goal quickly, sometimes do not want the margins to be with and you can wear forever for "right fish".
As with my first 10 kilo pike so loose it and soon came more. After I finally managed to get my 50 cm perch it has been more already this summer. Maybe fishes best when you are relaxed without a goal and the press in its fishing?
Text: Fish is best when you are relaxed without goals: Mikko Seppänen